Jan 27, 2021 01:05 PM Central
Lauren da Silva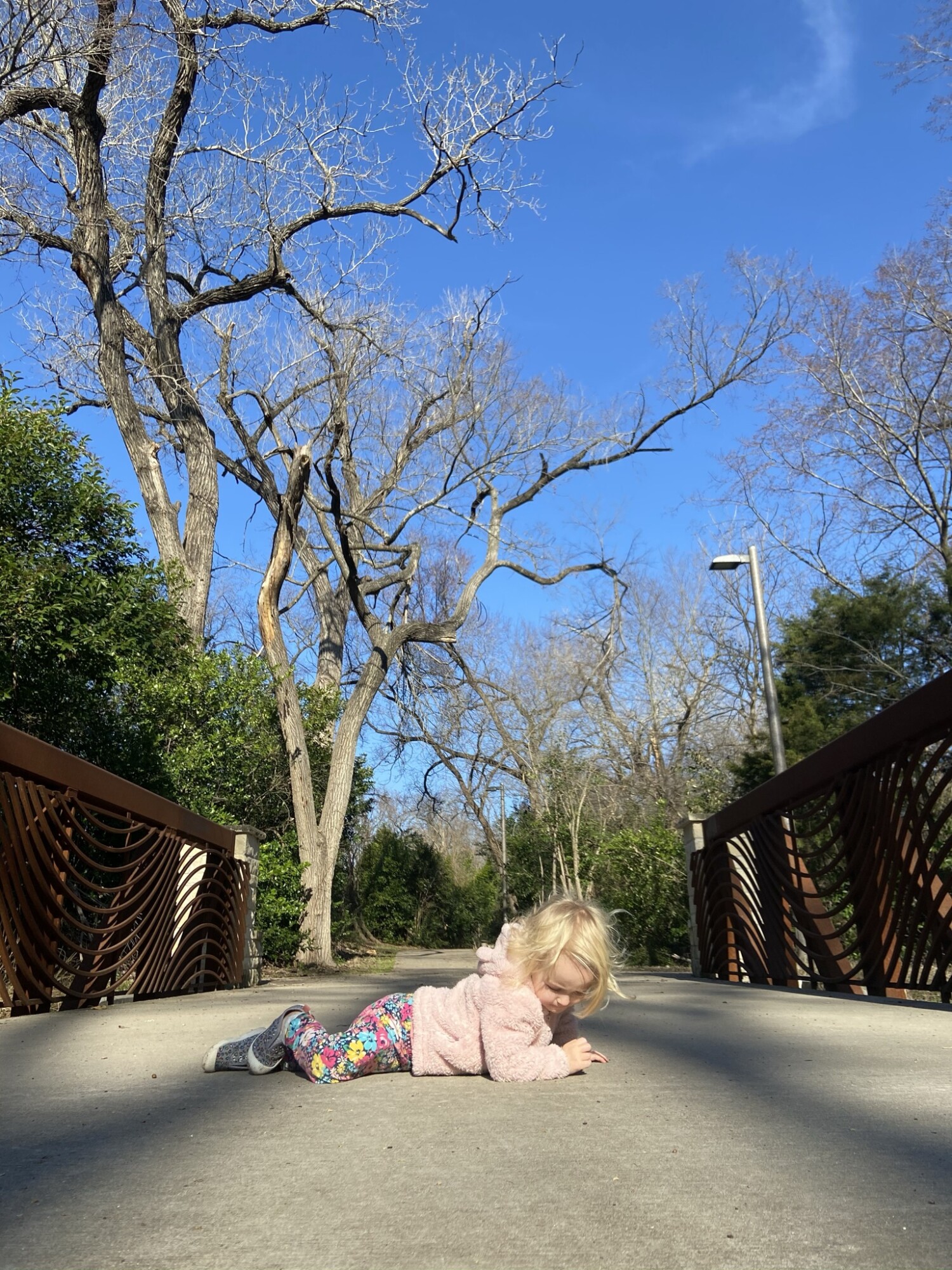 One of my and my big kids (6&8) favorite things to do is go on hiking adventures in the woods together.
Today was the first time I took Ellie, who turns 2 next week for a walk in the woods by herself, without the comfort of her stroller and the companionship of her father and older siblings.
You guys, the second she lost sight of the car she wanted to turn back.
I spent a good 5 minutes gently convincing me to follow me into the woods in between her asking where her brother, sister and father were.
Once she agreed to follow me, holding my hand, the farther in we got, the more unsure she became until she finally asked to be picked up.
We were in the middle of one of the most beautiful trails that we had been on as a family before, in the middle of a flock of hundreds of migrating songbirds and she kept looking back to see if she could see the car, and while I was mesmerized by the birdsong, all she seemed to be able to hear was the traffic beyond the trees.
How often are we like this? We are beckoned into wide open spaces of beauty and adventure only to look back to the comfort of the spaces we know. A dirty minivan vs. sunlight dancing in the trees. Four wheels and 7 seats vs thousands of songbirds fluttering overhead.
I hoisted babygirl onto my shoulders and I pointed upward. LOOK! Look at the mama squirrel and her babies in the hollow. Look at that one just two arms lengths from you chattering away. LOOK at all the birdies Ellie, listen. Look at the river dancing in the clearing ahead.
Then the moment we were both waiting for… that sweet little toddler gasp..
MAMA WOOOOOOW!
Mama! Water!
Mama! Babies!
Mama! Birds!
Mama! Me go down!
Mama, let's run!
And we spent the rest of the hour wondering off the path and into the trees, picking flowers, investigating fallen branches, watching the water and flat on our backs enjoying the birds overhead.

At the end of our adventure I had to coerce her back into the car.
Friends, don't mistake familiarity with destiny. Don't get too attached to the minivans inside yourselves.
I am a human parent, need to recommit to my ideals on the REGULAR, and I choose to lovingly lead my daughter down pathways (although unfamiliar) that are for her good, her joy, and for her flourishing.
I was not angry that she was afraid, I was not upset by her attachment to what she knew. I did not disparage or judge her tentativeness. I just embraced her and invited her to trust me.
Some of you may feel led into the woods, past the point you've been before and without the people who usually go with you.
Just because all you can hear is the hum of the traffic beyond the trees, doesn't mean thats all there is to hear. Listen.
You are not alone out there. You will not be left alone in there. If you need to, raise those arms and ask to be lifted up onto your fathers shoulders. Ask for some perspective. Ask him to show you things you are unable to see or hear from where you are.
You'll be running out ahead of him, picking flowers and marveling at the beauty of your path soon enough.
Onward friends, adventure awaits!
.
.
.
If you are long for a life that feels like adventure and flourishing, I would like to invite you to consider joining me for a free training I am offering called "Whose life is it anyway?" A whole new way of planning your life and honoring who you are and your values/priorities. You can join that here:
https://laurendasilva.org/landing/whose-life-is-it-anyway