Sep 25, 2020 08:23 AM Central
Lauren da Silva
This treat is absolutely my pride and joy at the moment. So many of our My South African Kitchen customers here in Waco have been asking about Peppermint Crisp Tart - but because its still quite hot here in the heart of Texas, we aren't able to bring fridge tarts to market :P

This is our compromise, created after we wondered how we could recreate the flavors and some of the textures we love -but with a little more resilience in the face of the central texan sun oven.
A lamington (thanks Australia) is essentially vanilla sponge soaked in a chocolate syrup and then rolled in coconut. THIS lamington (a vast improvement on the original if I do say so myself) is soaked in a caramel syrup and then rolled in a crumb made from peppermint chocolate, coconut and marie biscuits :D

A special word to our fellow South Africans here in the US - there is no need to settle for Graham crackers anymore! A special thanks to our new hispanic neighbors and their favorite foods - you'd probably find their version of Marie Biscuits (Maria Biscuits), Caramel Treat (Dulche de Leche) and even Tennis Biscuits in the hispanic food aisle. Then as far as peppermint chocolate goes -if you can get a hold of a peppermint crisp - that would be your first and best choice BUT we substitute this for either a peppermint Aero (World Market) or this guy - an Andes Snap Bar- a very cost effective alternative from Walmart.
Another word of wisdom - you will need to bake the cake a day in advance and leave it to air dry in the oven overnight.
Alrighty everyone - the moment you have all been waiting for... Here is the recipe for the Caramel-Peppermint Lamington. Use it wisely. :)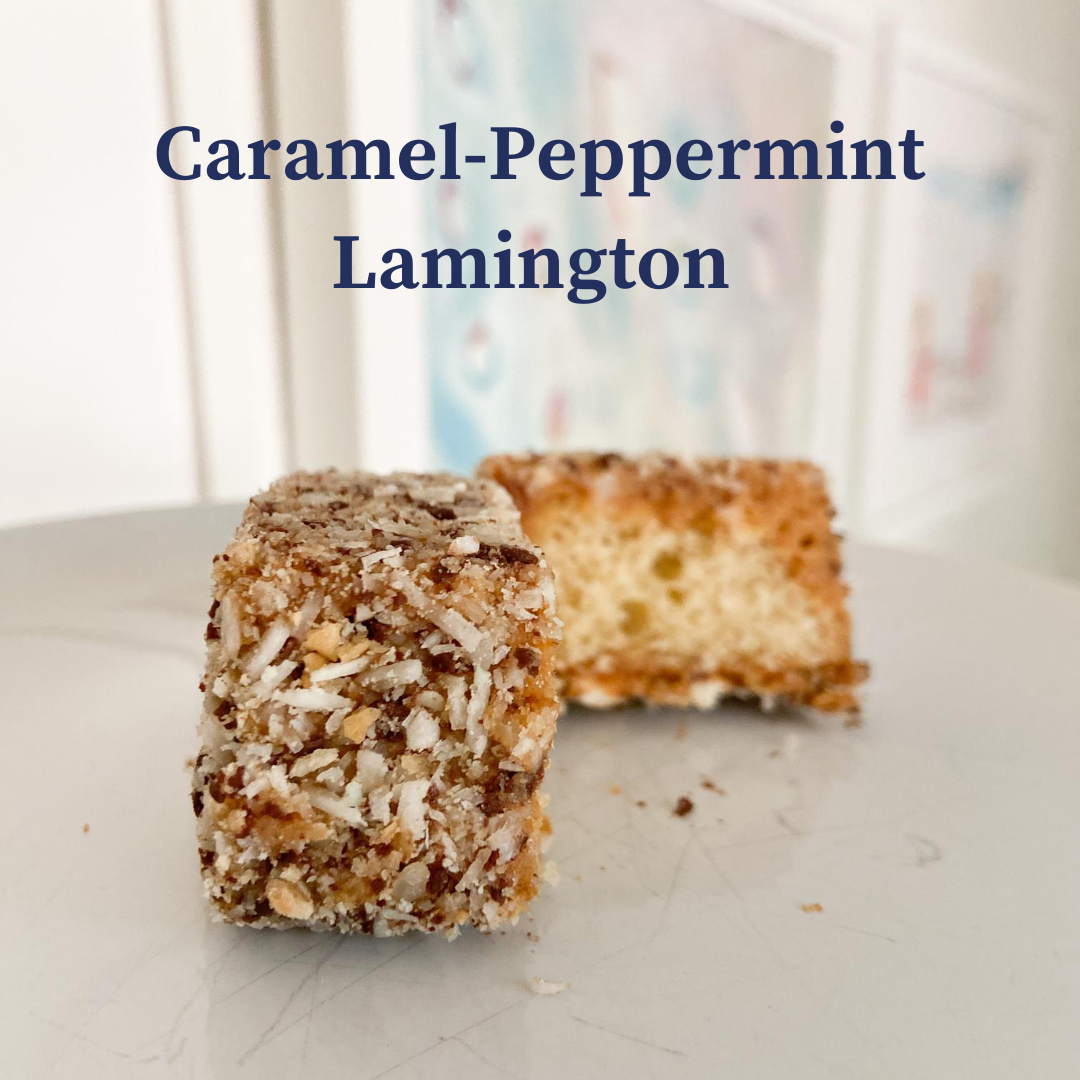 ROAST PEACH & CRUNCHIE CRUMBLE:
Makes: 32 Lamingtons
Baking Temp:
180 degrees C or 350 degrees F
For the Cake:
All Ingredients should be at room temperature.
1 and 1/4 cup baking flour
2 Teaspoons Baking Powder
1/3 cup corn flour or corn starch
200g butter (2 sticks minus 1 tbsp)
1 cup of sugar
2 teaspoons vanilla extract
3 eggs
1/2 cup fresh milk
For the syrup and crumb:
1 tin of caramel treat or
Dulche de Leche
1 Andes SnapBar (grated finely)
1 packet of Maria/Marie Biscuits smashed into fine crumbs
2 cups of unsweetened/shredded (desiccated) coconut
1. Preheat oven to 180 degrees Celsius or 350 degrees Fahrenheit.
2. Grease a 17x27cm or 7 inch x11inch baking ban and set aside.
3. Beat the butter, sugar and vanilla until creamy.
4. Add the eggs and beat until well combined.
5. Add all of the dry ingredients.
6. Add the milk.
7.Beat until well combined, thick and creamy.
8. Transfer to your baking dish and smooth out until even.
9. Bake for 30-35mins.
10. Once baked and cooled slightly, remove the cake from the pan and store in the oven over night (the cake needs to dry out a little bit).
For the Syrup & Crumb:
1. Cut your cake into 32 evenly shaped squares.
2. Mix your biscuit crumbs, coconut and chocolate shavings into a large bowl and combine well, set aside.
3. Empty out your tin of caramel into a large bowl and add about 1 cup of boiling water - whisk until smooth and syrupy - it should be quite liquid - add more water if necessary.
4. Submerge three or four blocks of cake into the syrup at a time. Remove and place on a drying rack with a tray under it to catch the drippings. While they drip - add 4 blocks to your syrup.
5. While your last 4 blocks are still soaking - add your dripping block to your coconut coating one at a time and coat it entirely - add to a plate or a baking sheet (I usually line mine with parchment or wax paper)
6. Once you've covered all of your dripping squares with coconut - move your soaking cakes to the dripping sheet (I use two forks) and add 4 more to your syrup and then repeat the process until everything is soaked and rolled in coconut.
7. You can eat immediately but we like to leave ours in the fridge for a few hours.