Aug 13, 2020 07:18 AM Central
Lauren da Silva
You may or may not have heard of Crunchies. They're granola bar-type cookies that are a staple of many South African childhood pantries. What makes them extra special is that they're kinda chewy and when they're done right, the caramelized sugars, together with the textures come together to make a treat that is delicious and hard to put down.
One of my favorite things to do with cunchies is make a crumble. One of my favorite things to do with a crumble is roast it inside the juiciest, sweetest peaches I can get my hands on and then finish that off with fresh whipped cream or vanilla ice cream (or both).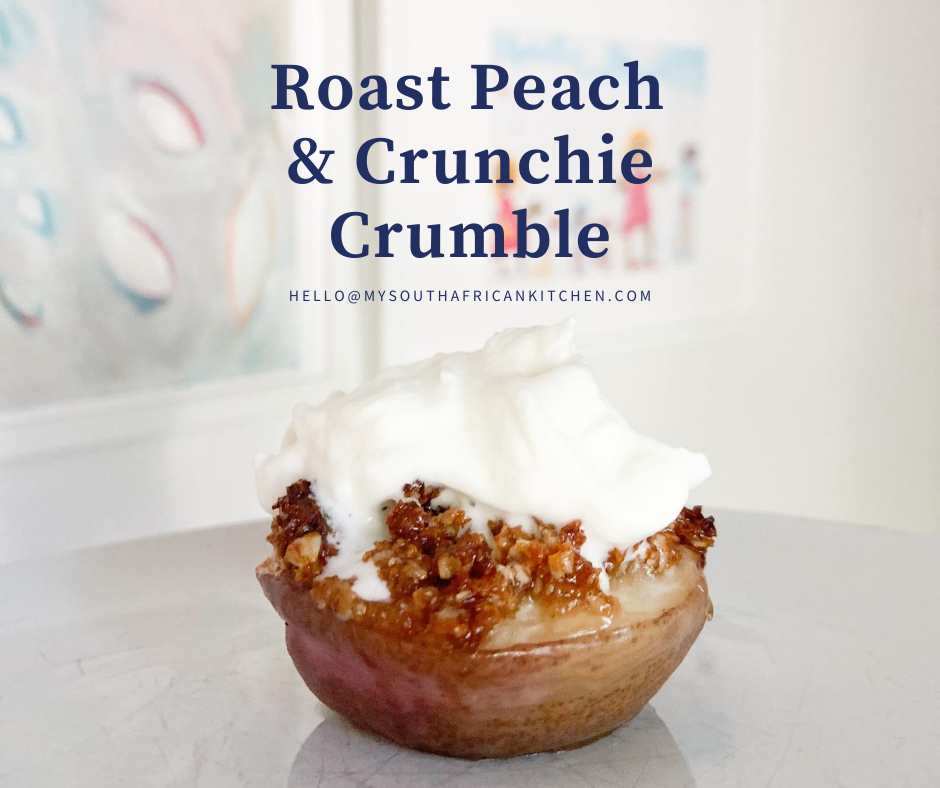 ROAST PEACH & CRUNCHIE CRUMBLE:
Serves: 4
Baking time: 30mins
Baking Temp: 180 degrees C or 350 degrees F
2 Ripe Peaches (halved and pitted)
4 Table Spoons of Butter
Whipped Cream or Vanilla Ice Cream for serving
Ground Cinnamon for serving (optional)
1. Preheat oven to 180 degrees Celsius or 350 degrees Fahrenheit.
2. Melt Butter.
3. Place Crunchies and ginger (or oil) in food processor and pulse until crumbly (you can go as coarse or as fine as you'd like).
4. Transfer crumbs to a bowl and mix in the melted butter until evenly mixed.
5. Place peach halves on lined baking tray and evenly spoon crumb mixture into pit cavity and on the top of the peach half.
6. Bake in the center of the oven for 30mins.
7. Remove from oven, transfer to serving dish and serve with a dollop or fresh whipped cream or vanilla ice cream.
8. Sprinkle with Cinnamon or Cinnamon Sugar before serving.